Water Cooler Cleaning & Repairs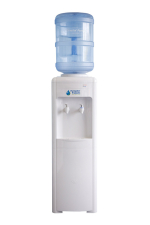 Water Cooler Cleaning
All water coolers require regular sanitising. The water purifier removes chemicals and the chlorine added to your water supply to disinfect your water. However, it is important to keep the water storage bottle and stainless steel reservoir hygienically clean to prevent bacterial contamination and algae growth.
We recommend that bottle-type water coolers be cleaned and sanitised every 3 months to prevent contamination occurring, or even 2 months in some situations. Inline water coolers can be cleaned and sanitised on a 6 monthly basis as they have no bottle that requires cleaning. We follow a very strict cleaning and sanitising protocol, cleaning the cooler on the outside as well as the inside with special brushes to remove any algae.
With our scheduling system, we clean and sanitise your water cooler on a regular basis. Please note you are only charged after each service - no fixed term contracts or forward payments are required.
Service Charges
Hamilton
Single water cooler on site $60.00 (excl. GST) per cooler per visit.
Multiple water coolers on site $55.00 (excl. GST) per cooler per visit.
Travel $25.00 (excl. GST) per visit to site
Outside Hamilton
Prices are the same as within Hamilton, plus travel and mileage.
If you are in the Waikato region and wish to have your water cooler(s) sanitised, please phone us toll free on 0800 746 744 to discuss your requirements.
On-site Maintenance and Repairs
Purewater Products NZ offers local businesses within the Waikato region a regular maintenance and repair service, in which we take care of any filter cartridge changes using our automated reminder service as well as offering a repair service on water coolers and fountains.